When going to Maui, it's pretty clear that you're going to spend some money. At the most basic level, you've got to buy airline tickets, book condos or residences at a resort, and going out to eat. As we all know, this can add up, especially with kids in tow.
With this in mind there are tons of activites on the island that won't cost you a dime. In fact, I was surprised and amazed that you can go to Maui and easily fill your week with unique, free activities.
1) Bird-lover's Paradise at Kealia Pond National Wildlife Refuge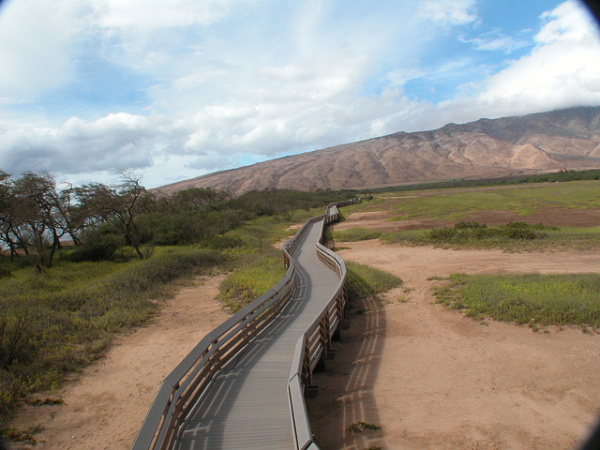 Photo: Flickr
These serene wetlands in Maui's central valley provide pristine bird watching opportunities. This is ideal for the bird lover in your family. The best time to visit is in the morning when the sun and wind are not as strong. The refuge is open Monday - Fridays, 7:30 am - 4 pm.
2) Whale Watching is Always Free on the Beach

Photo: Flickr
There are an estimated 5,000 humpback whales that descend on Maui every winter. January through March are the peak months. There's not really an ideal time of day to go whale watching in Maui, but experts say conditions are best with glassy water and calm winds. Of course you can pay for a trip on a boat out into the ocean to view the whales up close, but for those that wan't to save time and money you can simply watch the whales from the shore — for free! Some of the top spots are McGregor Point, Olowalu reef, and Wailea Beach. Bring binoculars and leave your wallet at home!
3) Escape the Sun Under the Banyan Tree

Photo: Flickr
In Lahaina, the 137-year-old banyan tree towers over almost an acre of land in the downtown area. It is said to be the largest such tree in the United States. On most Saturdays and Sundays, the He U'i Arts and Crafts Festival takes place under the tree from 9 am - 5 p.m., with live music. From 7 - 10 p.m. on Friday, Lahaina art galleries feature artist demos and refreshments. A visit to the banyan tree is one of the best free things to do on Maui, and if you're staying in Lahaina it is a must do!
4) Maui's Last Lava Flow & La Perouse Bay (Keone'o'io)

Photo: Flickr
Over 400-500 years ago, Maui's last lava flow created a surreal, rough lava field that visitors can still experience today. Take Maui's Route 31 south to Wailea-Alanui Drive (which becomes Makena Road). As the road narrows, your entire family can drive over 1 mile of the lava rocks. If you have older kids, park in the lot at the end of Makena Road and take the path over the cooled lava (called The King's Highway) to La Perouse Bay. While it is free to access the lava flow, it is a bit of a drive from the resorts in Maui and might be a better trip for those that have already been to Maui and want to try something new (and free).
5) Watch Wind Surfers for Free at Ho'okipa Beach Park

Photo: Flickr
To start, do not go in the ocean at Ho'okipa Beach Park. The ocean is extraordinarily rough and only expert wind surfers should enter. Park in the free upper parking lot for the best view, bring a lunch or early dinner, and watch the best of the best tackle the mighty ocean. In the afternoon, world-class swells are accompanied by strong winds, making it ideal for windsurfing. Waves are at their largest in the winter. Located two miles past Pa'ia on Maui's north shore, Ho'okipa Beach Park is a nice (and free!) place to stop on your way back from the road to Hana.
6) Explore Tidepools at Beach near Mama's Fish House

Photo: Flickr
While Mama's Fish House is not free, exploring the small, white sand cove behind it is as free as it gets! The beach is a perfect spot for mom and dad to relax while the small kids explore. During the daily tide cycle, much of the reef becomes exposed forming shallow tide pools chock full of sea creatures. Located just past Pa'ia, this is a safe, relaxing and free thing to do during your family vacation. Keep in mind that parking can be a little tricky as the valet is reserved for guests of the restaurant only.
7) Hula Show at Ka'anapali Beach Hotel

Photo: Flickr
To avoid the pricey luau experience, check out the free hula show at the Ka'anapali Beach Hotel, one of the oldest hotels on the island. You can watch the show from the edge of the seats if you want to avoid the waitress who will expect you to order a drink if you sit down. The show runs from 6 - 8pm and is a blast for all ages. Towards the end, the entire family can learn a dance together - guaranteeing a nice laugh as embarrassed teens watch their parents try to wiggle their hips.
8) Volunteer on Vacation

Photo: Pacific Whale Foundation
Offered by the Pacific Whale Foundation, Volunteering on Vacation is a free thing to do in Maui that provides an opportunity to help protect the island's forests, shorelines, beaches and open lands. What better way to give meaning to your family vacation than doing something good for the island. Call (808) 249-8811 ext. 1 to learn about the current free activities and programs running in Maui.
9) Free Hula Show and 'Ukulele Lessons

Photo: Flickr
If you and your family are staying at a Lahaina resort in west Maui, head down to Lahaina Cannery Mall for free 'ukulele lessons. The lessons are offered every Tuesday night at 5:45 PM. The hula show starts at 7pm. The mall itself is Maui's only enclosed, air-conditioned shopping center making this a great free thing to do on the island when you need a break from the heat and the beach.
10) Join a Local Astronomy Group

Photo: Shutterstock
Started in 1994, Maui Astronomy Club offers opportunities to meet local stargazers fascinated by the unpolluted air above this Hawaiian island. The group is free to join and sponsors monthly events. Previous activities included full-moon parties, poetry under the stars, watching meteor showers together and much more. Become a member and receive up-to-date info on upcoming events. The founder of Maui Astronomy Club also offers stargazing tours from the top of Mt. Halekala Volcano.
11) Free Wine Tasting at Ulupalakua Vineyards

Photo: Flickr
Ulumpalakua Vineyards is open for free wine tasting every day from 10 - 5pm. They provide complimentary tours at 10:30am and 1:30pm if you are interested in seeing more of this interesting winery. Most of their wines are pineapple wines, providing visitors with a unique wine experience. As you make your way to the winery, the views toward Kihei, Wailea, Makena and Molokini are stunning. There's also Ulupalakua Ranch Store Grill - a lunch spot across the street from the winery - if a meal is in order during your visit.
12) Free Friday Night Town Parties

Photo: Maui Fridays
Every Friday evening a different Maui town has a free street party with live music, shows, exhibits, and food vendors. This is a perfect opportunity to break away of the chain stores and large resorts in Maui and get a slice of local flair. It's one of many amazing events happening in Maui every week. Check Maui Fridays to see the schedule.
13) Cliff Divers at Black Rock (Pu'u Keka'a)

Photo: Shutterstock
Every night as the sun sets, a torch lighting ceremony atop the large black rocks on Ka'anapali Beach is followed by a local man diving into the ocean below. This ritual is great way for you and your family to take in a bit of culture while enjoying the the majesty of the Maui cliff divers. If you want prime seats, head to the Sheraton's Cliff Dive Grill. When you arrive before sunset, you receive complimentary hula lessons. However, you will need to order something to sit here.

Photo: Maui Sunset Resort
Related Maui vacation articles