If you thought that taking a six-hour drive down the Hana Highway was the only way to satisfy your craving for adventure on Maui, then get ready to be pleasantly surprised.
Many Maui adventures are full of truly stunning natural escapes. From island hopping and rainforest trails to a leisurely stroll through exotic gardens, the modern adventurous family has a lot to choose from. So strap on those close-toed shoes and floppy hats, and apply a fresh layer of sweat resistant SPF 50.
1) Hiking the 'Iao Valley State Park

Photo: Flickr
Every year, 365 inches of rain pour down on the 'Iao valley, swirling through the canyons like a natural chisel. Over centuries, this deluge has carved out a 2,250-foot pillar of basalt, which once served as a sacred burial site in Hawaiian civilization. In 1790, the Ioa Needle, as this rock formation is known, was the ominous backdrop to the roar of King Kamehameha's cannons that defeated the Maui army. His decisive victory forever altered Hawaiian history, uniting the three major isles under one rule.
Today, the 'Iao Valley makes for a peaceful Maui hiking adventure. Its central location between South and West Maui makes it very accessible from most of the major resorts. Once there, you only have to walk up 133 steps to the ridge where you're greeted by a panoramic view of Maui's central valley and Kahuilu Harbor. There are a few great hikes here, which follow the Iao stream and take you through the ruins of ancient villages and modern taro farms. Along the way you'll see local kids jumping off cliffs into the streams below. But make sure to stay on the trail and be respectful of the site's cultural significance.
2) Sail to Lana'i for a Day

Photo: Trilogy Excursions
Maui is one of the few Hawaiian islands where you can take a day trip to another island. It's only a quick 30-minute ferry ride over to the nearby island of Lana'i from the harbor in Lahaina and quite possibly one of the best excursions in Maui.. Lana'i is a baby version of Maui, and the smallest Hawaiian isle with a notable permanent settlement. It offers great hikes through forests and natural red dirt so vibrant that they actually use it to dye clothing. The beach at Manale is also a playground for spinner dolphins. You can spot them easily from the sand. It's strongly advised that you NOT swim with the dolphins in Maui. So please maintain a safe distance, as not to disturb them.

Photo: Flickr
If you really want to take full advantage of this Maui adventure, visit Lanai on a sailing cruise. This one from Sailing Trilogy comes highly recommended and includes a breakfast of homemade cinnamon rolls, exclusive access to the Hulupo'e Marine Preserve, beach volleyball, a guided tour through a historic plantation town, and a BBQ dinner overlooking the dolphins at Manale Bay.
3) Sit Beneath the Banyan Tree

Photo: Flickr
The great Banyan Tree seems like something out of a Tim Burton film. In fact, it's the site of Hawaii's largest Halloween party every year. Its twelve trunks and hundreds of branches wrap themselves over two-thirds of an acre as if it were a living animal. The tree is more of an attraction than an adventure, but it's a natural wonder that's definitely worth seeing, and it's 100% kid friendly. Also, since it's in downtown Lahaina, there's plenty to do nearby. On certain Saturdays and Sundays you can catch the local art fair from 9 am - 5 pm beneath its shade. But check the schedule first.

Photo: Jeff Whyte
4) Take a submarine ride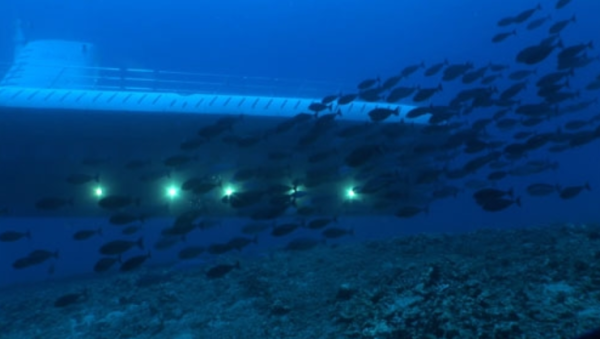 Photo: Atlantis Submarines
On of the most surreal Maui adventures occurs under water. Atlantis Submarines runs a tour that takes you through a world inaccessible by snorkel trips and most scuba dives, and it's much more comfortable. Cruising the depths, you get to see a reef growing in the compartments of a sunken ship. Meanwhile, you stay safe and dry. You'll find angel-like eagle rays, moray eels, puffer fish, sea turtles, and the infamous tiger shark, which I'd personally much rather watch from behind the glass. In winter, from December to May you may even be able to spot a humpback whale.
The tour is a bit pricey, but it's only $35 for kids under 12 if you book online. Also ask your resort if they offer additional coupons or check in local magazines. If you can budget for it and have kids, a submarine ride is something that you'll be talking about long after you've returned home.
5) Kula Botanical Garden

Photo: Flickr
Heading up into Maui's highlands? The Kula Botanical Garden is a must! This 8-acre sanctuary is packed with 2,500 species of plants and trees, giving you a taste of Hawaii's stunning biodiversity, while making it accessible for all ages. Native Hawaiian nene geese and African cranes roam the landscape of lava rocks, natural streams, and koi ponds.

Photo: Kula Botanical Gardens
Kids will get a kick out of the chameleon exhibit and the aviary, which offers dozens of exotic bird species. You can also tour the nearby coffee plantation and Christmas tree farm or visit the carved tiki display. The Botanical Gardens are a great place for a relaxing picnic on the lanai. It's also pretty inexpensive. Adult (12+) tickets are $10, children (6-12) are only $3, and anyone under 6 gets in for free!
Ultimate Upcountry experience
I'd recommend the Botanical Gardens as a great half-day trip or as one stop in a longer trip through Maui's Upcountry. Since the gardens are located at a major fork in the road, you're at the perfect jumping off point. If you're turning home, you can hit up Surfing Goat Dairy on your way back. If you continue south, you can visit the Maui Winery. If you go northeast, you can explore the quaint artist town of Makawao. And if you're feeling really adventurous, you can take Waipoli Road and drive to the top of Haleakala. But, remember, if you're having second thoughts about summiting, you can always pull off and call it a day at the Lavender farm, which is epic in its own way (who said that 55,000 lavender plants at 4,000 ft. elevation isn't extreme?).
6) Surfing Goat Dairy

Photo: Flickr
Their slogan in Hawaiian Pidgin is "Da' Feta Mo Bettah'," in other words they make some seriously good goat cheese. This ranch is a great place for kids to see goats, which are some of the most hilarious looking and behaving domesticated animals. It's hard to beat that old-man beard look. Meanwhile, parents can sample a variety of gourmet cream cheeses made fresh at the ranch. You don't have to make a reservation to stop by for a casual tour. And if your kids want to learn how to milk a goat, stop by at 3:15 pm for the hands-on "Evening Chores & Milk Tour." For the full goat ranch experience, you can also reserve a spot in the Saturday morning "Grand Dairy Tour." Just call (808) 878-2870 for more info.
7) Adventure on Mt. Haleakala

Photo: Shutterstock
Another surreal Maui adventure takes place at the top of a volcano. A lot of guides say you should visit Mt. Haleakala at sunrise. It's an experience that takes the word majestic to a whole new level, and gives you that "on top of the world" feeling. But, you don't have to wake up at 3 or 4 am to appreciate this massive, dormant volcano. Alternatively, you can watch the sunset, moonrise, or come midday and take a hike along the crater's moonlike expanse.
Mt. Haleakala feels primeval, and almost alien. One of the few plants that grows here is the silversword, which looks like some shiny robot version of a succulent. You're at a place where earth begins, but the desolate rocks makes you feel like you're at its end. And at the same time, you're above it all. If you look below to the east you can see the lush rainforests of Hana. If you look west, you see the windward desert of Southwest Maui. On a clear day you can even spot the peak of Mauna Kea over on the Big Island.

Photo : Shutterstock
There are plenty of hikes through the mountain's crater valleys. The Sliding Sands Trail (Keonehe'eh'e), which takes you through the cinder desert of a former eruption zone has many parts and can be as long as 13.6 miles. White Hill Trail (Pa Ka'oao) is a quick half-mile hike from the visitor's center and offers a spectacular view of the crater below. Check out this guide for a comprehensive list of Maui hiking trails.
8) Windsurfers at Ho'okipa

Photo: Flickr
If Maui is the windsurfing capital of the world, then Ho'okipa Beach is its Capitol Hill. Come during the afternoon and you can see some of the top windsurfers flying off the waves. Best of all, the beach isn't too crowed so you've got space to spread out with the family and watch the show. Swimming conditions are a bit rough, but on the other side of the beach there's a protected reef where you can snorkel or watch sea turtles bobbing in the water. Come earlier for the calm!
Ho'okipa is also a great place for a picnic. There's a great vista with benches known as The Pavilion where you can enjoy lunch away from the wind and sand. The beach is just outside Pa'ia, so after you've seen the surfers you can head over for some shopping in this quirky local town. Or stop there first and pick up a fish burger or a delicious Flatbread pizza to go.
9) Nakalele Blowhole

Photo: Flickr
The Nakalele Blowhole should be known as the Old Faithful of the Pacific. Powerful waves along the cliffs force water through a natural hole formed from an ancient lava flow, spouting a plume of seawater 100 feet in the air. It's an easy 1.25 mile hike from the parking lot and you'll pass a beautiful heart-shaped rock formation as you go.
But, make sure to bring good sandals or close-toed shoes, since the rocky trail is a little uneven. It's also important to keep your distance from the hole and read the warning signs because you can get sucked in.
Getting here is the Maui adventure you crave. If you're driving from Lahaina you'll pass the pineapple field of Kapalua and the famous surfing spot at Honolua Bay. Along the way, you can find locals carving handmade tikis and masks on the side of the road at mile marker 36.
10) Ke'anae Peninsula

Photo: Flickr
This next spot is about halfway to Hana. It's a great stopping point if your kids are easily carsick and you can't make it all the way or if you just need a break from the windy roads. Keanae really is, in the words of Mark from Mauiguidebook, "an old Hawaiian village…on a dramatic finger of lava." Indeed, the peninsula was created during a massive lava flow off of Haleakala.

Photo: Flickr
Covered in lush vegetation and a small arboretum with 150 varieties of tropical plants, this little jetty of lava rock feels like a peaceful sanctuary adrift in a powerful ocean. Every day, the rough waves of Maui's eastern shore batter its jagged cliffs making this probably the worst place in Maui to swim. But, it does make for one of the best picnic spots in Hawaii, and may be a contender for the best in the world. There's an old Hawaiian village here with a church that was built in 1856 and stands as the lone survivor of the great tsunami of 1946. If you come on the 3rd Sunday of the month you can even catch a sermon. Also, be sure to check out the Ke'anae Landing Fruit Stand for fresh pineapple and homemade banana bread.

Photo: Flickr

Photo: Aina Nalu Lahaina
Related Maui vacation articles